When introducing a new subject or concept, it is necessary to "define the terms." Often complicated and requiring memorization, defining the terms is the foundation of higher learning and understanding.
Defining terms are like coat hangers; you use them to organize and categorize your stuff. The same goes for the learning and development (L&D) world.
In fact, this is no more so than in the fast-paced world of artificial intelligence (AI).
What is Artificial Intelligence?
Artificial intelligence is a technology that performs some or all work that a human being can do with similar or better results. Most people envision it as robots lifting boxes or packaging things on a conveyer belt.
Regardless, it is much more than that, especially when it comes to L&D!
AI is leveraged in various ways to help make sound learning decisions in the training and learning space.
What is Adaptive Learning?
One of those ways AI is leveraged is a training method called adaptive learning. This type of learning utilizes artificial intelligence to interact with learners to deliver content targeted to the exact needs of each participant.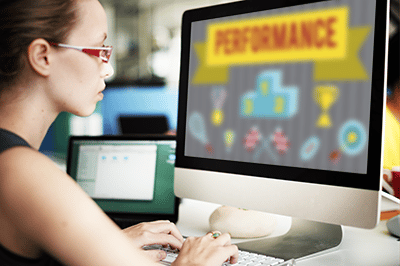 AI is used as a means to evaluate participants' knowledge levels in real time. This information is then used to instantly recommend level-appropriate content for each participant.
In short, it caters to a learner's existing level of understanding.
Think about when you were a child at school — some students could keep up with the teacher, while others were left behind. Still, others were bored because they were more advanced.
Through artificial intelligence, adaptive learning seeks to solve these problems resulting in happier and more engaged learners.
Using Artificial Intelligence to Improve Knowledge Transfer
Most learning programs are geared to teaching specific content regardless of the experience levels or aptitudes of the participants. The problem with this type of approach is that it lumps all participants together equally.
For example, say a participant is a new hire on a sales team that sells pharmaceutical products. He or she may have sales experience and even specific product knowledge.
Yet, when faced with learning about a new product, how much of their prior knowledge will really help them understand and sell the new product?
Within this scenario, if adaptive learning were used, AI would assess the salesperson's existing level of product knowledge. The learner would then be presented with content adapted to address their individual needs.
Think of the potential benefits:
Addressing learners uniquely at their current level of understanding in real-time
Increased understanding and content retention
Ability to get new products to market quicker since training is more tailored
These are just some of the many benefits and precisely what AI-driven tools and applications are already doing.
AI Tools for Learning and Development (L&D)
In an interview with Marc Zao-Sanders, the co-founder and CEO of Filtered, he talked about their "Content Intelligence Platform for L&D" toolset and what it brings to the table.
Filtered's sweet spot uses AI to strip down to only what each current learner needs to focus on – all the extraneous material gets filtered out so that only the most salient points are covered.
The algorithms and technology are not unlike what consumers experience in social media ads today. However, in the learning & development world, this type of application is very new.
Only the most progressive organizations are currently latching on, but these applications are becoming more commonplace. In fact, a new bread of learning management system (LMS) called a learning experience platform (LXP) is growing in popularity.
The most significant difference between an LMS, a system designed to deliver and track learning content, and an LXP is that the latter is learner-centric.
An LXP can curate content based on a learner's skills and desired type of content, thus allowing them to choose their own path.
Final Thoughts
If you are a learning leader looking to deploy adaptive technology in your organization, Zao-Sanders shared what he believes is the key to making it a successful endeavor.
More than anything, companies must have both the people and data perspectives well in hand.
People refer to an organization's culture. It is imperative to cultivate support for artificial intelligence to embrace its use from the top down.
Regarding data, a company has to have rich enough data sources to feed the training algorithms for learners. It is only as good as the data it has access to.
He also cautioned that an organization should ensure the selected technology is built for good baseline and evolving metrics. It should quickly adapt to learners as THEY adapt.
Does your organization currently utilize AI-based tools? What are some of the most significant gains you have seen since introducing artificial intelligence? Your experience matters; share your thoughts with us on LinkedIn or Twitter!
Originally published December 19, 2017, updated October 8, 2022.